Staff & Leadership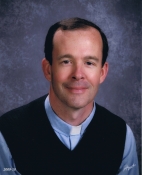 Pastor Bill Coleman has been pastor of Luther Memorial Church since November 2008. Bill grew up in Scranton, Pennsylvania with his parents and two brothers. After graduating from high school, he attended St. Bonaventure University, and finished his BA in Accounting at Indiana University of Pennsylvania. Bill met his future wife Amy at I.U.P and they were married in August of 1996. After living in Northern Virginia for seven years and working as an auditor and financial analyst, Bill was called into the ministry.

The Coleman family, including two children - Brennan and Emma, began seminary at Gettysburg Lutheran Seminary in the fall of 2000. Bill graduated with his Masters of Divinity in 2004, and was called to serve Trinity Lutheran Church in Sidman, Pennsylvania and St. John Lutheran Church in Summerhill, Pennsylvania. After moving to Erie (where his wife Amy grew up) Bill served St. Peter's Lutheran Church (Millcreek) and Trinity Lutheran Church (McKean) before being called by Luther Memorial Church.

Bill enjoys running, biking, reading and cooking. He finds peace during long walks and runs at Presque Isle State Park. He finds joy in the simple moments of life and is appreciative of his many blessings. He enjoys having conversations with people and welcomes meeting new people. He is thankful for the ministry which happens here on a daily basis and is excited about the future of this ministry.
Church Council
Les Fobes - President; John Bartlett - Vice President; Mark Lechner- Secretary; Greg Kern - Treasurer; Dorothy Overberg - Assistant Treasurer
John Bartlett; Vicky Blasco; Ann Flick; Mark Howell; Joe Helm; David Griswold; Jack Tell
Ken Kraut; Michael Snider; Pat Young; Emma Chaffee, Stan Rose; Pastor Bill Coleman